Congratulations Emory University Graduates!
---
We are here to make your Commencement Ceremony the most beautiful and memorable experience possible with the finest regalia available to Emory University students.
In the effort to remain green on campus, all ­­­Emory University students will be wearing environmentally conscious GreenWeaver® regalia, made here in the USA. This line of graduation wear is made of fabric spun from molten plastic pellets produced from 100% post-consumer recycled plastic bottles.
Each day in the US more than 60 million plastic water bottles are thrown away. Most end up in landfills or incinerators, and millions litter America's streets, parks, and waterways. With an average of 25 plastic bottles being used to produce your cap and gown; you are helping to ensure a cleaner, healthier future for our planet.
Since 2012, Emory University has helped to divert OVER 478,050 plastic bottles from landfills!
REGALIA ORDERING DEADLINE: Wednesday, March 4, 2020
Regalia must be ordered by this date to ensure arrival by Commencement.
Barnes and Noble at Emory Grad Fairs:
Wednesday, February 12th from 10 am-6 pm: Ordering Begins
Wednesday, April 15th from 10 am-6 pm: Arrival of Online Orders and Rental Orders
Click below to order a diploma frame.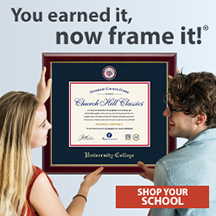 **Please note group orders will not be accepted. Only one complete package may be rented per order. **